A recent article from Michael Merriman and the Minnesota Department of Agriculture pointed out an interesting fact about the seed that consumers are buying every day. Many homeowners and lawncare teams will find themselves purchasing seed this spring to thicken up their lawns. One thing that may be overlooked is what exactly the bag of seed they are spreading on their lawns contain. If you flip the bag of seed over, the label on the bag has a lot of important information that can help answer this question.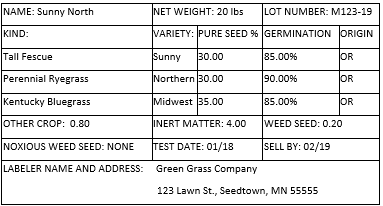 This chart is an example of a typical seed label. As you can see a label will show you what that bag contains, the germination percentage, and who tested the seed. 
According to the MN Dep. of Agriculture, 
Pure seed is the percentage of each kind (species) or percentages of each kind of seed if the bag is a mixture.
Inert matter is anything inside of the bag that is not seed including chaff, broken seed pieces, plant debris, soil, i.e.
Other crop seed includes other species of seeds that are unintentional contaminants in the seed bag and are commonly sold as a crop.
Weed seed includes seeds that are identified as weeds in agricultural, natural, or other settings.
So what does this mean?
It is important to know what you are spreading on your lawn. The Minnesota Department of Agriculture Seed Program monitors seed for sale in the state to make sure that it is labeled truthfully and accurately. Seed inspectors and County Agricultural Inspectors collect approximately 1600 annual samples from seed that is available for sale throughout the state. Keep an eye on the noxious weed list and help prevent the spread of weeds in our state.